Sylvester Researchers Expand Firefighters Cancer Initiative with Renewed Funding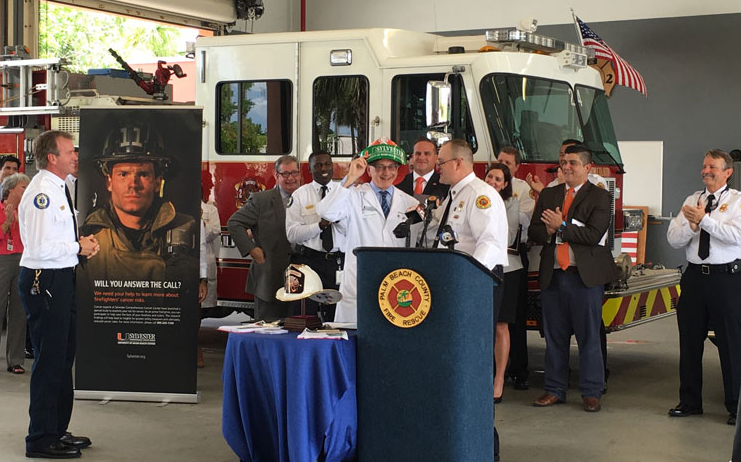 Surrounded by firefighters, advocates and lawmakers, researchers at Sylvester Comprehensive Cancer Center announced that they are extending the Firefighters Cancer Initiative started nearly one year ago. The goal of the partnership between South Florida's only academic-based cancer center and more than a dozen South Florida fire rescue departments is to better understand why firefighters may face a higher risk of cancer and find ways to improve their health and safety.
At the event held at Palm Beach County Fire Rescue, Stephen D. Nimer, M.D., Director of Sylvester, announced that the project is heading into its second year with $1.5 million of additional state funding, thanks primarily to the support of State Rep. Jeanette Nuñez, Chair of the House Government Operations Appropriations Subcommittee, and State Rep. Frank Artiles.
"Without their support," said Nimer, "we simply would not be able to sustain and grow this program, making discoveries that will ultimately save lives."
The program, which began a year ago with nearly $1 million in funding, encompassed Miami-Dade Fire Rescue and Palm Beach County Fire Rescue Departments. Since that launch date, the partnership has grown to include Broward County, the City of Miami and all Palm Beach County Fire Rescue Departments. With the infusion of renewed funds, the program will expand to Martin, Orange and Hillsborough counties.
In the past year, more than 1,800 active firefighters from 31 departments in the tri-county area have completed the annual cancer survey, and more than 400 blood samples have been collected from Palm Beach County firefighters. Female firefighters have been screened for cervical cancer, and more than 400 firefighters have also received at-home kits to screen for colorectal cancer.
Addressing the crowd, Nuñez said the combination of Sylvester researchers working with firefighters and lawmakers had created "mind-blowing progress" in this area. She and Artiles were presented with plaques in recognition of their leadership and commitment to this initiative.
Sylvester physician-scientist Alberto J. Caban-Martinez, D.O., Ph.D., M.P.H., who has worked on this project with lead investigator Erin Kobetz, Ph.D., M.P.H., Senior Associate Dean for Health Disparity and Associate Director of Cancer Control at Sylvester, said, "This project is giving us the tools to determine exactly how firefighters are exposed to an increased risk and then take that next critical step of addressing methods of reducing that risk."
Researchers have also initiated an education campaign to increase awareness about prevention and early detection and Sylvester researchers have launched a pilot program, Determining Occupational Uncertainty in Sources and Exposures (DOUSE), to collect breath and skin samples before and after a work shift.
Former firefighter Capt. Butch Smith, who has been fighting multiple myeloma for several years and had just finished a chemotherapy treatment earlier in the day, spoke haltingly about the importance of the Firefighters Cancer Initiative in learning how to reduce the cancer risk for his firefighting brothers and sisters. "Without Sylvester, I would not be here today."
Smith presented Nimer with a traditional firefighters' helmet, customized with the Sylvester logo across the front, telling the audience, "When I see Sylvester, it means hope and promise."
Original post can be found here.