Dr. Stephen Nimer, Director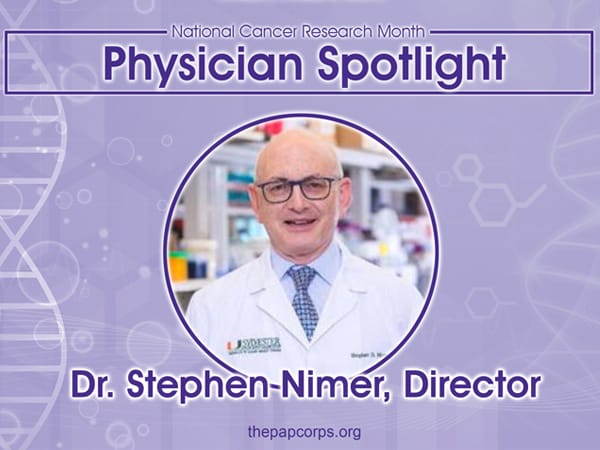 During May we salute the doctors who dedicate their lives to research. We kick off our campaign with a familiar face to our Pap Corps members! A physician and leader– Dr. Stephen Nimer!
A world-renowned physician-scientist, Dr. Nimer has cared for patients with myelodysplastic syndromes (MDS), acute myelogenous leukemia (AML), multiple myeloma, and lymphoma for over three decades. As the Director of the Sylvester Comprehensive Cancer Center, Dr. Nimer led Sylvester efforts to earn the prestigious National Cancer Institute designation in July 2019, making it the only NCI-designated cancer center in South Florida, second in the state of Florida and one of just 71 across the nation.
Throughout his career, he has conducted extensive clinical and basic science research into the treatment and genetic basis of adult leukemia and bone marrow failure states, defining how the bone marrow controls its production of blood cells, and exploring ways to treat blood-based cancers. Dr. Nimer has authored over 300 scientific publications and has received numerous awards for his research, including the prestigious Irma T. Hirschl Career Scientist Award and the E. Donnall Thomas Award in 2015 from the Bone Marrow Foundation. In 2019, Dr. Nimer was named the inaugural holder of the Oscar de la Renta Endowed Chair in Cancer Research.