Game Changer Will Bring Cancer Information, Diagnosis to the Streets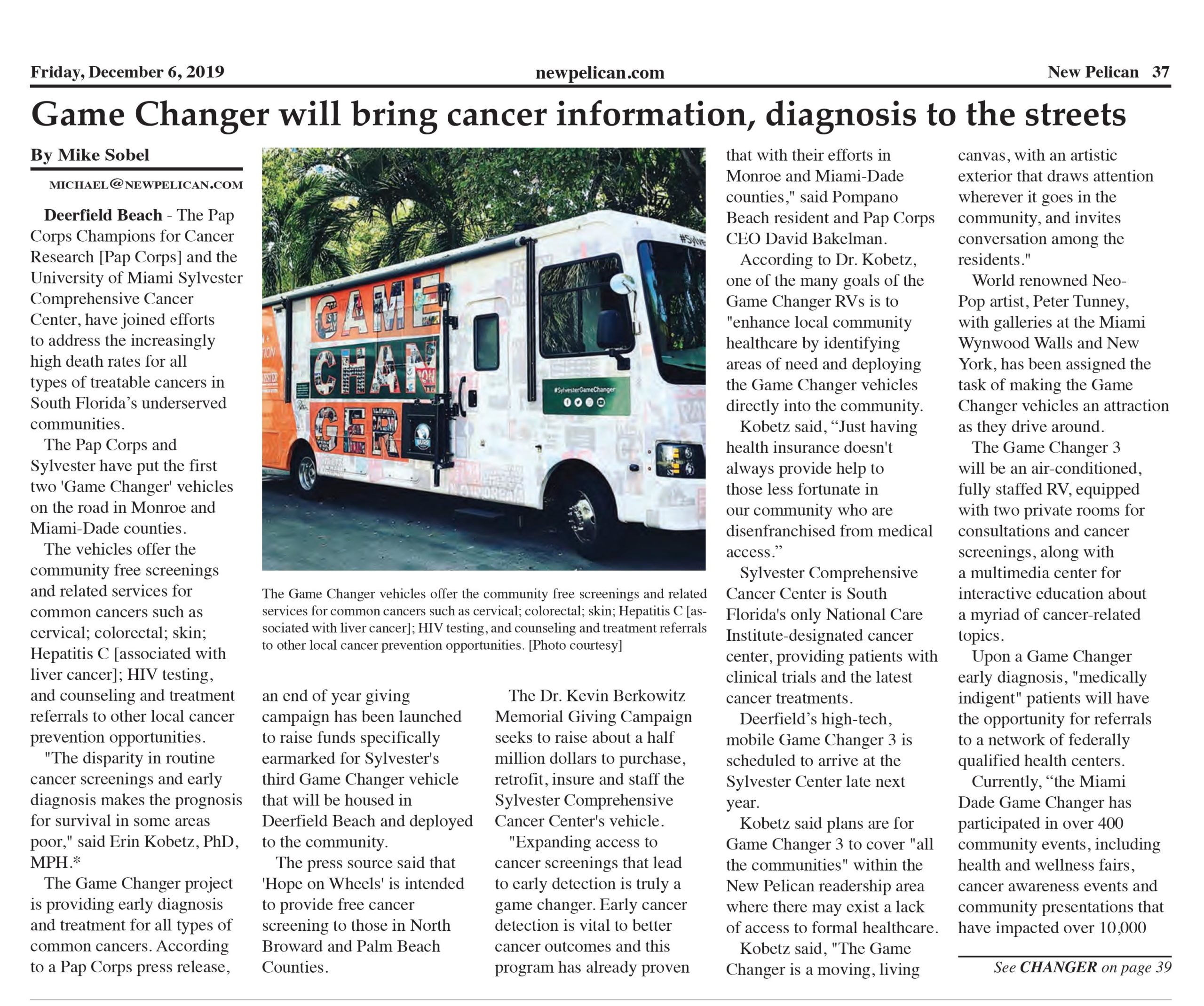 Game Changer Will Bring Cancer Information, Diagnosis to the Streets.
The Pap Corps Champions for Cancer Research [Pap Corps] and the University of Miami Sylvester Comprehensive Cancer Center, have joined efforts to address the increasingly high death rates for all types of treatable cancers in South Florida's underserved communities.
The Pap Corps and Sylvester have put the first two 'Game Changer' vehicles on the road in Monroe and Miami-Dade counties. The vehicles offer the community free screenings and related services for common cancers such as cervical; colorectal; skin; Hepatitis C [associated with liver cancer]; HIV testing, and counseling and treatment referrals to other local cancer prevention opportunities. "The disparity in routine cancer screenings and early diagnosis makes the prognosis for survival in some areas poor," said Erin Kobetz, PhD, MPH.* The Game Changer project is providing early diagnosis and treatment for all types of common cancers. According to a Pap Corps press release, an end of year giving campaign has been launched to raise funds specifically earmarked for Sylvester's third Game Changer vehicle that will be housed in Deerfield Beach and deployed to the community. The press source said that 'Hope on Wheels' is intended to provide free cancer screening to those in North Broward and Palm Beach Counties.
The Dr. Kevin Berkowitz Memorial Giving Campaign seeks to raise about a half million dollars to purchase, retrofit, insure and staff the Sylvester Comprehensive Cancer Center's vehicle. "Expanding access to cancer screenings that lead to early detection is truly a game changer. Early cancer detection is vital to better cancer outcomes and this program has already proven that with their efforts in Monroe and Miami-Dade counties," said Pompano Beach resident and Pap Corps CEO David Bakelman. According to Dr. Kobetz, one of the many goals of the Game Changer RVs is to "enhance local community healthcare by identifying areas of need and deploying the Game Changer vehicles directly into the community. Kobetz said, "Just having health insurance doesn't always provide help to those less fortunate in our community who are disenfranchised from medical access." Sylvester Comprehensive Cancer Center is South Florida's only National Care Institute-designated cancer center, providing patients with clinical trials and the latest cancer treatments. Deerfield's high-tech, mobile Game Changer 3 is scheduled to arrive at the Sylvester Center late next year. Kobetz said plans are for Game Changer 3 to cover "all the communities" within the New Pelican readership area where there may exist a lack of access to formal healthcare. Kobetz said, "The Game Changer is a moving, living canvas, with an artistic exterior that draws attention wherever it goes in the community, and invites conversation among the residents."
World renowned Neo- Pop artist, Peter Tunney, with galleries at the Miami Wynwood Walls and New York, has been assigned the task of making the Game Changer vehicles an attraction as they drive around. The Game Changer 3 will be an air-conditioned, fully staffed RV, equipped with two private rooms for consultations and cancer screenings, along with a multimedia center for interactive education about a myriad of cancer-related topics. Upon a Game Changer early diagnosis, "medically indigent" patients will have the opportunity for referrals to a network of federally qualified health centers. Currently, "the Miami Dade Game Changer has participated in over 400 community events, including health and wellness fairs, cancer awareness events and community presentations that have impacted over 10,000 people and provided free cancer health screenings, as well as STD/STI testing for approximately 6,000 people," according to Dinah Trevil, Director of the Sylvester Office of Outreach. To learn more and donate to the next Game Changer 3, go to thepapcorps.org/getinvolved/end-of-year-giving. Since 1952, The Pap Corps has donated more than $110 million to Sylvester Comprehensive Cancer Center at the University of Miami Miller School of Medicine. The Pap Corps Campus at Sylvester in Deerfield Beach received a $50 million pledge in 2016.