Molecular Diagnostics Separate Malignant from Benign Melanocytic Tumors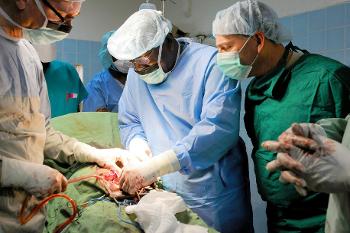 Jeong Hee Cho-Vega, M.D., Ph.D., a skin cancer expert at Sylvester Comprehensive Cancer Center at the University of Miami Miller School of Medicine, and colleagues have shown that a relatively simple, multi-step molecular diagnostic algorithm can help determine whether rare, atypical spitzoid tumors are benign spitz nevi or malignant melanomas. This new protocol could ensure that patients receive the right therapies to match the severity of their tumors. The study was published in the journal Modern Pathology.
"Atypical spitzoid tumors are kind of borderline," said Cho-Vega. "If you see them under a microscope, some features look malignant, some benign. By looking at the molecular signature, we can say this is more likely a melanoma signature or this is more likely a benign signature."
Determining whether these tumors are benign or malignant can have a huge impact on patients, who are often children and young adults. Currently, pathologists rely on microscopic findings to determine whether an atypical spitzoid tumor is cause for concern. However, even experts can differ on whether a tumor is a non-threatening spitz nevus or a dangerous melanoma.
"Pathologists and patient's parents usually seek consultation with several melanocytic experts, but they don't always agree," said Cho-Vega. "The bias is toward melanoma, even if it may be benign, leading to overtreatment."
To solve this problem, Cho-Vega designed a protocol with three additional diagnostic tests, most notably fluorescence in situ hybridization (FISH) and array-based comparative genomic hybridization assay (eCGH).
The immunohistochemical diagnostics interrogate a variety of genes associated with melanoma and nevi. For example, p16 is a tumor suppressor gene that is often lost in invasive melanomas. HMB45 is a melanoma-related antigen that is also lost in invasive or metastatic melanomas. By highlighting these and other genetic aberrations, pathologists can diagnose these tumors more effectively.
In the algorithm, each test reveals new information about the tumor, gradually determining whether the lesion is a benign spitz nevus or a malignant spitzoid melanoma. Immunohistochemistry diagnostics start the process. If these tests signal a possible melanoma, a FISH test is performed. If these results are positive, the lesion would be diagnosed as melanoma. If negative or borderline, the pathologist would move on to an eCGH test, which would provide entire chromosomal information to define the tumor's genetic alterations.
"These tests investigate the underlying molecular events," said Cho-Vega. "If they show a melanoma signature, then we're really confident to treat this patient as having melanoma. We want to precisely diagnose these lesions so we don't overtreat or undertreat them."
By taking the ambiguity out of atypical spitzoid tumor diagnoses, these tests could improve care and make life easier for parents of children who are diagnosed.
"In my experience, all parents were very happy to perform these molecular tests since they had certainty about the tumor for their children," said Cho-Vega.
This is the first time this combination of molecular tests has been proposed to delineate atypical spitzoid tumors. "As the molecular techniques advance, this algorithmic approach is also evolving by adding new molecular tests," said Cho-Vega. She and her team hope the protocol will be adopted by other institutions to ensure patients receive the treatments that precisely match their tumors.
"If the patient has melanoma, it's better to extensively treat it," she said. "This diagnostic algorithm provides us more-objective insights to decide whether it's melanoma or not."
Original post can be found here.