George Papanicolaou, M.D., Ph.D. Statue Unveiling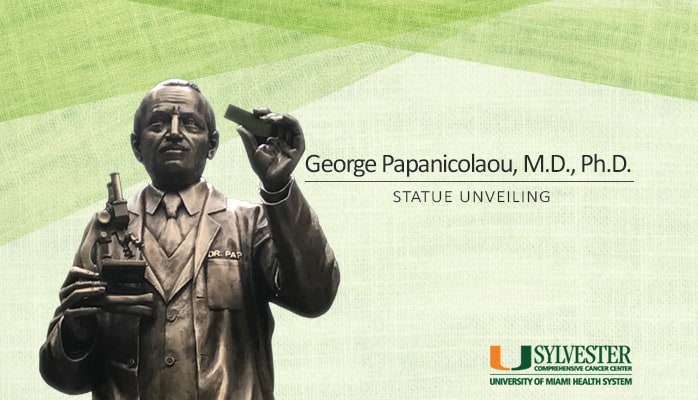 The statue unveiled on Thursday, June 1, 2017 pays tribute to the legacy of Dr. Papanicolaou, a brilliant physician-scientist whose name will forever be linked with his life-saving contributions to the field of oncology. This memorial, located in the Schoninger Research Quadrangle outside of the Papnicolaou Cancer Research Building, was made possible through the generosity of the following donors:
Eleni Anastasopoulos, Eleftheria Boubaris, Paula Dames, Velouthitsa Drymonis, Maria Ketsios, Evagelia Kolitsopoulos, Bill Mataragas, Marina Mazas, Fay Pavlopoulos, Lemonia Poumakis, Theodora Servos, Sylvia Stamatoglou
George Papnicolaou, M.D., Ph.D. (1883-1962)
Georgios "George" Papanicolaou was born in May 1883 in Kymi, Greece, the son of a prominent physician. At the age of 15, he was admitted to the University of Athens, where he obtained a doctor of medicine degree in 1904.
Dr. Papnicolaou resisted strong family expectations that he return to Kymi, and instead traveled to Germany where he earned his Ph.D. He also defied attempts at an arranged marriage and eloped to marry Andromache "Mary" Mavroyeni, who would become his lifelong medical assistant and critical partner.
With little money and unable to speak English, the couple emigrated to the United States in 1913. Dr. Thomas Hunt Morgan of New York's Columbia University had read Dr. Papnicolaou's Ph.D. thesis and assisted him in obtaining work at the New York Hospital, which subsequently led to a research position at Cornell University where he was employed for nearly 50 years.
It was 1928 when Dr. Papnicolaou first reported on an easily performed screening test for the early detection of cervical cancer. His discovery and the significance of Papnicolaou's test, which later became know as the "Pap smear," took decades for medical science to recognize.
Dr. Papnicolaou collaborated with gynecologists, the American Cancer Society, the National Cancer Institute, and others to develop the field of diagnostic cytopathology and medical history's first effective cancer screening test. The American Medical Association began recommending annual Pap smears for women in 1960. Since then, the lives of countless women have been saved, and the test is now one of the most widely used cancer screening methods in the world.
This breakthrough sparked the passion of a small group of courageous women, who recognized that scientists like Dr. Papnicolaou needed money to explore new ways to fight all types of cancer. In 1952 they founded the nonprofit organization, The Pap Corps, Champions for Cancer Research, to fundraise and support research studies – an effort that has continued successfully to this day.
Dr. Papanicolaou relocated to Miami in 1961, and served as the director of the Cancer Research Institute for a brief period before his death in February 1962. In his honor, the Institute was renamed the Papnicolaou Cancer Research Institute, and in December 1984, it became known as the Sylvester Comprehensive Cancer Center at the University of Miami Leonard M. Miller School of Medicine.