Super Funders Pledge $50 million for South Florida Cancer Research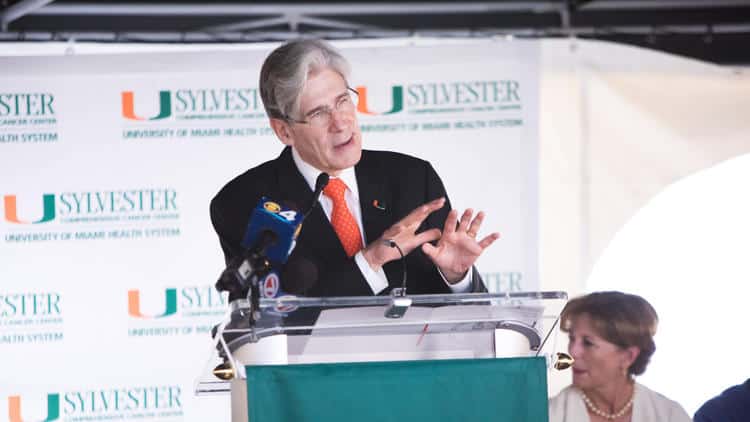 A grassroots fundraising group that has been fighting cancer for six decades this week made its largest gift ever: $50 million to South Florida's Sylvester Comprehensive Cancer Center.
The Pap Corps Champions for Cancer Research pledged to raise the money over 10 years to support the center's research efforts. Sylvester is part of UHealth, the University of Miami's health care system.
Sylvester Director Dr. Stephen Nimer said the donation will push the center toward an important goal — to be named a National Cancer Institute Designated Cancer Center. These medical facilities offer the cutting-edge treatments that attract patients — and top-flight doctors and scientists — from around the country.
Moffitt Cancer Center in Tampa currently holds the only NCI designation in Florida.
The gift announcement was made at Sylvester's Deerfield Beach campus, where a major renovation and expansion is expected to begin next year. The new center, which will offer the latest intervention radiology treatments and clinical trials, will be named after Sylvester's most dedicated supporters, The Pap Corps Campus.
The Pap Corps funds will be used exclusively for research. Nimer anticipates they will go, in part, toward recruiting top-level scientists and specialists, innovative research in areas such as hard-to-treat cancers and tumor biology, and laboratory improvements.
"The Pap Corps gift is huge for our mission to become national leaders in cancer research," said Nimer, a leukemia physician, researcher and educator.
The Pap Corps was founded by a handful of dream-big South Florida women in 1952. They partnered with the Dade County Cancer Institute and one of its star researchers, Dr. George N. Papanicolaou, creator of the common cervical cancer detection test that bears a shortened version of his name.
Federal health officials credit Papanicolaou's Pap smear with a 60 percent decline in cervical cancer incidence and death rate between 1955 and 1992.
The Dade County Cancer Institute eventually morphed into the Sylvester cancer center. And The Pap Corps changed, too.
Today, the organization has 21,000 members and 51 chapters in Broward, Miami-Dade and Palm Beach counties, most of them in retirement communities. Members raise money through trips, card parties, luncheons, walkathons and other events. All proceeds go to Sylvester's research efforts.
The group has given $60 million to cancer research since its inception, a number that will almost double with their latest campaign.
"We have been giving annually, year in and year out," said President Linda Moses, of Boynton Beach. "We want to leave a legacy for the future, which is essential for finding a cure."
Original post can be found here.