Sylvester and Florida Panthers Celebrate Hockey Fights Cancer Partnership with $25,000 Donation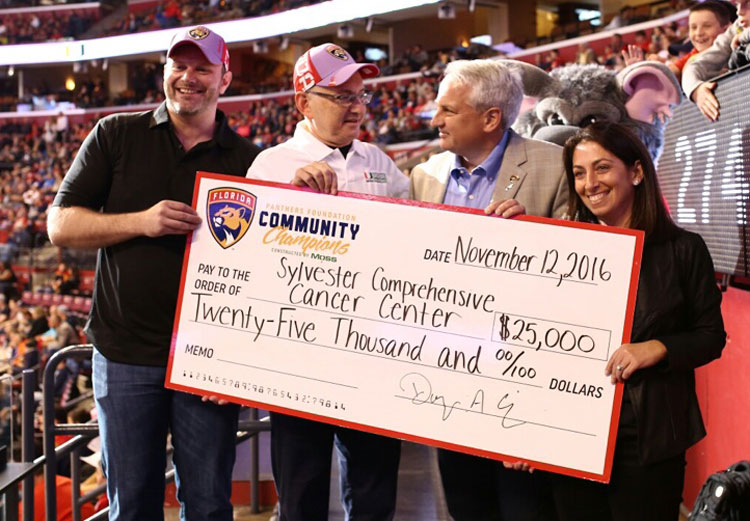 November has been an exciting month if you are a Florida Panthers fan or a cancer fighter or survivor. Sylvester Comprehensive Cancer Center has been honored to be the official Hockey Fights Cancer partner of the Panthers this year and announced a $25,000 donation for cancer research during a check presentation at the last Hockey Fights Cancer game on November 12.
The Hockey Fights Cancer partnership kicked off with the Viktor E. Dash 5k race on October 22, followed by the November 1 game vs. the Boston Bruins, November 3 vs. the NJ Devils, November 7 vs. the Tampa Bay Lightning and November 12 vs. the NY Islanders. A portion of the registration fees for the race and the games made up the $25,000 donation to Sylvester, and an additional $5,000 was donated by the NHL.
"We are very excited to welcome Sylvester to the Florida Panthers family," said Panthers Vice President of Corporate Partnerships Greg Rieber. "The NHL's Hockey Fights Cancer platform continues to be an important and significant initiative for the Panthers organization, and we strongly believe that partnering with one of the premier research institutions like Sylvester will only generate further awareness throughout South Florida."
Hockey Fights Cancer is an initiative founded in December 1998 by the National Hockey League and the National Hockey League Players' Association to raise money and awareness for cancer research. To date, the Hockey Fights Cancer programs of the National Hockey League Foundation (in the U.S.) and the NHL Foundation (in Canada), along with NHL supporters and fans, have donated more than $16 million to support the cancer programs of national and local cancer research institutions, children's hospitals, player charities and local charities. This is the first year Sylvester has been a Hockey Fights Cancer partner.
Original post can be found here.